By now you may have already learned but, it is with great sadness and sorrow to let you know that Bill "The Cat Guy" Sharon passed away Monday evening, 8/6/2018 in the Pottstown Hospital.  You can read his obituary found on the Catagnus Funeral Homes website (www.catagnusfuneralhomes.com) or in The Pottstown Mercury to understand that Pottstown has lost a truly, outstanding pillar of the community.  Cat NAPS of Pottstown, Inc. has also suffered a tremendous loss.  
Word spread quickly amongst the Board members late Monday morning that Bill had taken ill and was in the Pottstown ICU.  We had to make the dreaded phone calls to one another that night.  Emails and texts keep coming from us and to us as we console each other and mourn the loss of one of our own. 
Bill contributed so much to the Cat NAPS organization. Just to name a few, he fostered numerous cats and kittens, even adopted a few from us.  He participated in many Trap, Neuter, Release (TNR) projects and, I believe his personal goal was to get every stray cat in Pottstown spayed or neutered.  He rescued kittens that some of you may have adopted over the years.  He organized and helped at our fundraising events.   He set up our tent, table, and chairs for the outdoor fundraisers.  Sold soft pretzels with us at Boscov's.  And, oh, his breads!  Those breads would sell out quickly. "They freeze well too!", he would say. People were sorely disappointed if they got to our table too late and missed out on buying one of his tasty breads. Board member Catya "Cat" Harrold stated in a Board member email yesterday,  "Very sad to think I won't see Bill on the streets of Pottstown again, or decorate a tree with him, or eat his banana bread."  Our bake sales won't be the same again without Bill's breads.
Compassionate.  Of many words used to describe Bill "The Cat Guy', this is one of the best. If all the cats that he not only owned, but rescued, helped, and saved could only speak, nothing but good things would be said. They are all purring loudly and strong for him this week!  No doubt that not only his cats were at The Rainbow Bridge to walk across with him, but all kinds of animals were there to greet him for they knew what a compassionate man he was toward them all. We can only try to continue Bill's legacy, but no one will quite be able to fill his shoes or as the animals would say, his paws.  Sad times indeed for all that knew or knew of Bill.  Board member David Fritz stated in one of our emails yesterday, "Even the cats this morning seem very sad."     
I will end this Cat NAPS tribute of sorts by asking you to mark Saturday, September 15th on your calendars and attend the Pottstown Pet Fair.  Bill co-founded this fair 8 years ago and it has grown into perhaps the largest free pet fair in the U.S.  This year the pet fair will be held in his honor and your attendance will assist in making it the biggest and best fair to date!  Bill, we know you will be looking down on Memorial Park that Saturday with that big, beautiful grin of yours! We won't let you down!  
Rest in peace Bill "The Cat Guy", rest in peace.....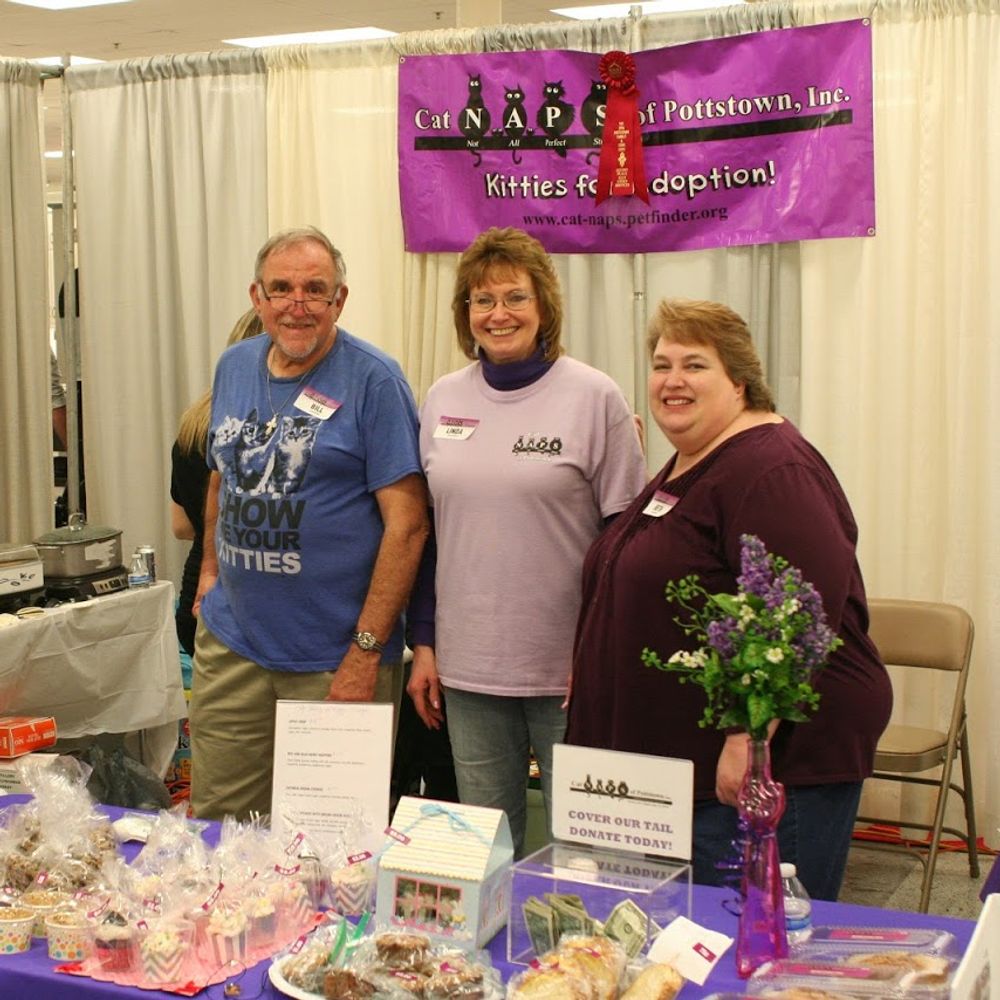 Bill, Linda, and myself at the Cat NAPS booth during the 2016 Pottstown Home Show.
Coincidently, Bill's breads had already sold out when this picture was taken!  
Beth Scherer, Secretary
Cat NAPS of Pottstown, Inc.